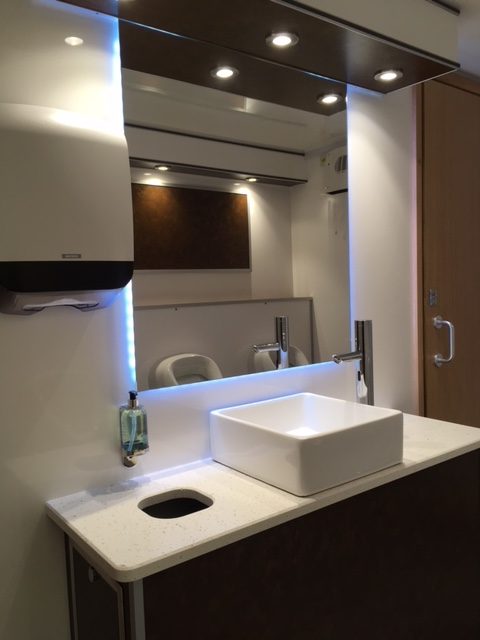 We are a family-run British company based in Wiltshire, England, manufacturing high-quality portable toilets, showers, cabins and kiosks, technical units, commentary boxes, and portable workspaces and so much more. 
We design and build custom units for your exact needs. If you can imagine it, we can build it. 
Whether you need a state-of-the-art shower or toilet block for a campsite, a technical mobile workshop, two story hydraulic unit, or a portable storage space, our bespoke design and build service will have the solution for you. 
Whatever your need might be, Wessington Cabins will find a solution for you. Call us today to discuss your individual requirements on 01249 812153 or email info@wessingtoncabins.co.uk and see how our dedicated engineering and construction team can bring your project to life. 
Custom made Cabins, toilets, showers, kiosks, techincal units, ticket offices, commentary booths, viewing galleries, expanding pods, exhibition units.
We design and build mobile units
Whatever you need, we'll have a solution for you. We can build and fabricate any type of mobile facility you need for your project or event. Here are some examples:
Our Customers include
Our valued and returning customers
Craftsmanship - Quality - Customer Service - value for money
Dont take our word for it....
Our customers know that our work can be trusted. We value workmanship, quality. reliability and take pride in every project we work on.

The commentary box you created for us is just perfect, the extending height is a genius invention, leaving room for all of the tech to remain in-place during transit. Its sturdy, sound isolated and most of all, comfortable! 
Grant Francis - Audio specialist

Just a note to say 'Thank you' to you and your team for the toilet provision at our Peterborough event. Your attendant was a very helpful accommodating young man, and he kept the units spotless, so please pass our appreciation on to him. The guys who delivered and collected were also very pleasant to deal with. The mobility roadshow. 

Our new facility block is brilliant, just what we need on-site. Gone are the days of uncomfortable, smelly portaloos, my team really appreciates a fully functional bathroom. It makes all the difference to team performance. 
Perry Webber - building contractor
Wessington Cabins Ltd design and build a wide range of top quality portable cabins, toilets, showers, commentary trailers and kiosks.
We construct all of the major components of all of our products including body panels and chassis at our Wiltshire Factory.
The chassis can be either fully galvanised or painted. Internal finishes from walls to floors are entirely up to you. In fact, within reason, we will build any layout of the unit that you can think of.  When you work with us, you can be assured of receiving the finest custom-built and long-lasting product available today.
It starts, with a conversation... and a cuppa
We will work with you to define exactly what it is that you require in terms of size, layout, colour, fixtures, fittings and other technical details. If you can imagine it, we can, in most cases build and supply it. From state-of-the-art sanitary facilities to technical commentary box solutions.  Once we know what you need, we can begin the design process, and then give you the cost breakdown and the all-important estimated delivery date. 
When we have your final ideas, bespoke, project-specific CAD drawings are produced and the build process is planned into our schedule of work. 
The final product will be delivered on time and within budget to a location of your choice.
Talk to us today
Call or drop us a line
---